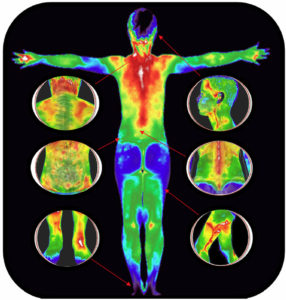 We are always asked who does thermography benefit? Thermography can benefit anyone who is proactively taking charge of their health and not focused exclusively on a disease diagnosis. A thermal assessment combined with guidance from a trusted healthcare provider is a great opportunity to achieve desired results for optimal health and longevity.
How does thermography work? Thermography images the skin surface which is a wealth of information this reflects the internal metabolism and physiological changes. Thermography provides a very sensitive look at the most clinically recognized indicator of potential health problems – IMFLAMMATION. In other words, thermography can see what the body is doing in an attempt to heal itself. Thermography does not need to penetrate and invade the body to obtain unique and critical information regarding the status of health.
There is an assumption that "early detection" would be related to the c word… "cancer". We believe thermography is an early detection of negative changes in the body that, if left unaddressed can lead to different life changing diseases. Thermography is very sensitive but not specific. What this means is changes that would not be visible to any other exam can be very apparent and indicate an opportunity to make changes for the purpose of optimizing and preserving health. The FDA has cleared thermography devices for use only as an additional diagnostic tool for breast cancer screening and diagnosis. Every person deserves to know the status of their health, before advanced symptoms require advanced disease management.
Without health, what do we have? Consider health discovery Vs. Disease Detection. Thermal Imaging Services is here to help you gain insight on healthy living.
Thermal Imaging Services travels to Katy, Houston, Beaumont, Tyler, Tomball, The Woodlands and Kingwood/ Humble. There is no reason NOT to do thermography, let our advanced thermographer guide you through the simple process. Visit us at www.ThermalImagingTexas.com for more information or to book your appointment, we would love to meet you.